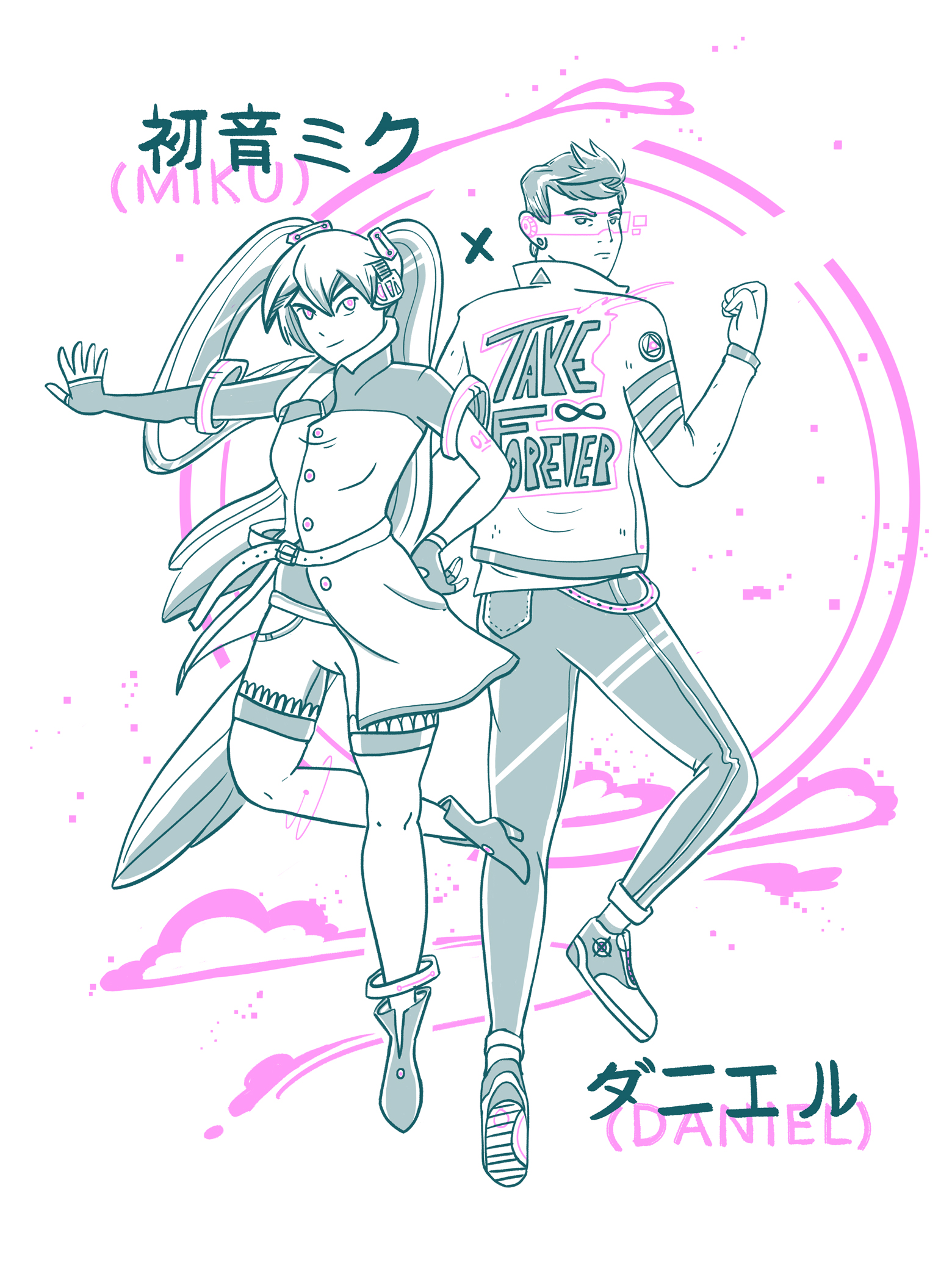 Daniel Robinson X Miku Illustration
A commissioned piece by musician Daniel Robinson, to accompany the release of a single featuring his own vocals, along with the Vocaloid, Hatsune Miku. Created in two-color separations in case he wanted to get screen prints made.
"The Bone King"
Lucas
A simple illustration to practice print design, inspired by the character from the 'Mother'/'Earthbound' series of the same name. Sold during the summer/fall of 2015 in the Red Door Gallery, Edinburgh.
The Stranger Zine
One of the first projects of my master's program was a zine project. We were taught simple bookbinding and formatting, and were encouraged to experiment. The zines were to be featured at an upcoming book fair in the city. I decided, since Halloween was near the deadline of the project, to make a small scary story. One that I imagined could be told around the campfire, and which would look like a small storybook.
Map of Aleria
Fantasy map illustration done for Christian Bacchiocchi, to be included in his master's thesis. His thesis was a fantasy story, and this map depicts the major territories and cities of the setting. I worked with him to determine the basic geography, and took references from famous fantasy maps like Middle Earth and Westeros.
Stephen Universe x Gravity Falls Mashup
Illustration done at Frederator to be used as a transition in a video. The video featured fan art of Stephen Universe done in the styles of other cartoons. Keeping with that theme, I illustrated this scene combining Gravity Falls and Stephen Universe.
"Bears" Screen Print Design
A commission by musician Daniel Robinson, who needed a two-color illustration for use as a t-shirt print design.
"Monster Hunter"
For one of my first assignments of my master's program, we were given an open-ended project; we were to bring in a piece to show and critique that shows something about our working methods and style. I based this digital illustration on Link, from The Legend of Zelda series of video games.
Halloween Illustration - Stashriot
In the second week of October, Stashriot began a series of Halloween-related sales. I was assigned to complete a series of illustrations to promote the sale, incorporating both the theme and the products being featured in the sale itself. The images were formatted for use across the major social media platforms that Stashriot employs (namely: Facebook, Tumblr, and Instagram), as well as in their email mailer.
"Whatever 'n Stuff" Album Art
This piece was commissioned by my friend Chris Garcia for his band "The Proper" to be used as cover art for their EP "Whatever 'n Stuff." Visit his bandcamp here!
Edinburgh Observatory
Editorial illustration for Impulse Mag, a publication based in Edinburgh. The article was about seldom-visited spots in Edinburgh, and they wanted a stylized illustration to go along with it. Out of the destinations, I picked Blackford Hill to be the subject of the illustration, with the signature Observatory being the focus.
Waters of Leith
One of my projects while at the ECA centered around the Waters of Leith, a river that runs through the city. The class walked along the river for a day, drawing and taking notes. We then received a formal brief which called for a repeat-pattern that was inspired by our time at the Waters. When the project was complete, the prints went on display at the Waters of Leith Visitor's Centre in Edinburgh for a special exhibition.
Outerspacar
A comic based on the recently-released movie "Interstellar," putting in a line from "True Detective," with Matthew McConaughey being the connection between the two. Featured in the online publication of Yellerzine, Yellerblog.
Opinions Over Facts
This piece was commissioned by my friend Chris Garcia for his band "The Proper" to be used as cover art for their EP "Opinions Over Facts." Visit his bandcamp here!
.dream_machine
Tshirt design submitted for a contest on Threadless.com.
Big Questions
A comic about how cool it would be to talk to bees. Featured on Yellerzine's online blog, Yellerblog.
Tar Baby
One of my undergraduate classes focused on fairy tales. We had a project looking at the tales of Uncle Remus, and the classic cartoons that followed them. I chose to focus my piece on the tar baby character. It was selected to be featured in Plain China, a national anthology of undergraduate writing, though the article it was paired with fell through.